Organizer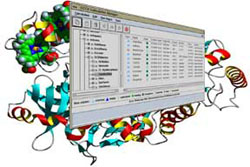 From a single window, the Organizer allows you to organize and manipulate computational chemistry studies in ECCE. This tool allows an at-a-glance overview of the status of every calculation, and easy access to key setup parameters and run statistics.
By invoking other tools from the Organizer, you can plan, submit, and monitor a large number of calculations, as well as examine and export the results for further analysis and publication.
From the Organizer a hierarchy of folders used to organize computational chemistry studies, called projects, is seen. By selecting a project, you can see a one-line summary of each calculation's name, state, creation date, ab initio application, chemical formula, basis set, theory level, runtype, and the name of the machine on which the calculation ran, among other attributes. You can customize the appearance of this workspace to suit your needs.
To learn more, use the Help menu from the Organizer application (this application was converted to use client-based help that isn't available from a web server).